BSCI 124 Lecture Notes
Undergraduate Program in Plant Biology, University of Maryland

LECTURE 39 - AGRICULTURE AND THE ENVIRONMENT
Introduction
Current agricultural practices are good at maximizing current yields. Newer varieties of crops provide higher yields and combinations of desirable traits. Fertilizers provide faster plant growth and greater amounts of food produced per plant. Pesticides are used to prevent losses to insects and provide the blemishless food consumers demand. However, sometimes the practices destroy future capacity to produce food. We will examine six problems created by present cultivation practices: crop genetics, soil erosion, soil salinization, desertification, fertilizer problems, and pesticides. Solution to these problems must be based on the concepts of sustainable agriculture - the idea that practices should be based upon renewable resources and long-term productivity.
Example: Tomato Production
Location- Major production takes place in California and Florida. Florida has two winter crops- ships October through May
Scale of production-Individual growers plant 50-100 acres. 100,000 acres of tomatoes are planted in Florida each year. Each acre contains about 7,250 tomato plants. Each plant was raised from seed in a greenhouse and hand planted in the field. Each plant is staked to keep the plant upright.
Soil preparation- Soil fertility is important- fertilizers are needed to replenish nitrogen, phosphorus and potassium taken up into the plants previously grown in the field. Herbicides (chemicals which kill plants) are used to clear the field of weeds- mechanical weeding is difficult on this large scale. Plastic is laid on top of the soil to retain moisture and either warm the soil(black plastic) or cool the soil(light-color plastic).
Pests and problems affecting crop- Insects (e.g. Colorado Potato Beetle, fruit worm), fungi (e.g. Early blight), bacteria (e.g Buckeye Rot), and nematodes cause crop losses due to their attack on plants. The growth of all the same plant together enhances the threat of these pests as they can quickly spread throught a field. Pesticides are applied to plants to reduce losses and produce fruit with no blemishes (due to minor diseases and pest feeding). Organic growers must use other controls- one can not sell a blemished crop that one has not done anything to control these pests.
Harvest- Tomatoes are picked green to allow shipment while firm. Treating tomatoes with ethylene gas at the destination or during shipment will induce ripening.
Economics- An average harvest is 35,000 pounds per field. The cost of growing these tomatoes (whether or not there are any to harvest) is about $4,276 per acre- or about 12 cents per pound. Harvesting costs 14 cents per pound. Together, a tomato crop requires $0.26 per pound. Consumers pay $0.50-$1 per pound, with much of that going to the grocers. Depending upon weather and growing conditions ( drought, flood, pests, harvest problems), and market conditions, growers can make money on a crop or wind up with a significant loss.
Problems associated with Agricultural practices

I. The problem of declining genetic diversity [REQUIRED READING] in our food crops [REQUIRED READING] and agricultural animals. Seed companies focus on providing seeds of certain new varieties of crops to growers. These varieties have been bred for combining favorable characteristics, such as high yield, ability to survive machine picking and packing, and resistance to certain diseases. However, by providing only a few varieties, we lose the diversity provided by growing the wide range of varieties historically developed for that crop; Different varieties are adapted to different environmental factors (drought, different pests or diseases, flooding) that we may not forsee as a problem until they happen. Focusing on one variety is similar to the old adage of "putting all our eggs in one basket".
A. Wild populations have great genetic diversity [REQUIRED READING]

1. Genetic diversity [REQUIRED READING] contributes to a species' long-term survival (provides the variation that enables a population to adapt to changing conditions)

B. Domesticated crops have much less genetic diversity

1. Selective breeding of crops results in uniformity because traits that are not of obvious value to the farmer at that time are lost in selection. Only a few varieties of a crop are often used by many farmers accross a wide region.

C. Lower genetic diversity increases the likelihood that domesticated plants and animals will succumb to new stresses which were not forseen (e.g. new strains of disease organisms or insects, drought, flooding, high UV levels).

1. Disease organisms- bacteria, fungi, viruses- evolve quite rapidly (e.g. think of the new strains of flu virus that spreads each year).

2. When a new strain of disease breaks out in a uniform domesticated population, all of the population may be highly susceptible
3. A new strain of disease would probably not hurt a wild population much because it is more genetically diverse- at least some of the population would have genes to resist the pathogen

D. Human in many parts of the world rely upon plants found native in other parts of the world, especially North America. Today, national and international efforts exist to preserve and maintain genetic diversity in a variety of plants, especially domesticated crops.
II. Soil erosion: Loss of soil comes from tilling (plowing) the land and the effects of wind and water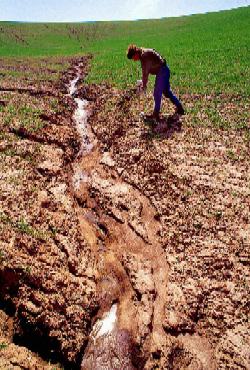 Soil is a valuable resource. The rich and deep soil of the Midwest US is what makes our country the breadbasket of the world and is important to our economy. Soil is made of organic and inorganic matter. The organic matter is important for giving texture to the soil, which allows root growth, and for feeding the microorganisms that live in the soil and the plant needs to grow. The topsoil is the richest in organic matter.
A. Problems: average soil erosion rate = 18-100 metric tons/hectare/year; average rate of soil formation = 1 metric ton/hectare/year (hectare=2.54 acres)

1. The soil on top (topsoil) which is lost contains nutrients and has an open structure; the soil which is left after erosion (the subsoil) contains fewer essential minerals, less water-holding capacity, and has a texture more like concrete.

2. Soil erosion causes silting of waterways

B. Solutions

1. Less plowing

a. Less reliance on annual crops and more reliance on perennials (develop a perennial form of corn?)

b. No-till agriculture (weeds and certain pathogens are a problem with this method, however) - helps with soil fertility, remember the soil is a complete ecosystem
c. Increase use of crop rotation and other practices
d. Use green manure crops

2. Prohibit growing crops on marginal land (sloping, dry, or already eroded land)

3. Use of contour strip intercropping, a new method used where wind erosion is a problem, along with crop rotation
4. Gully reclamation; planting shelterbelts (windbreaks)
III. Salinization of soil from irrigation: salt built-up in the soil to the point that crop plants can not grow. Water is necessary for plant growth. Irrigation is needed to farm areas that do not have sufficient rainfall to water crops. Many areas of the US could not otherwise be used for the crops that consumers will buy.
A. Problem: All fresh water used for irrigating crops contains salts. Always adding the minimum amount of water required to wet the soil means that when most of water evaporates from irrigation, the salts in the water are left behind to accumulate in the soil ( e.g. like salt crystals seen after a glass of salt water evaporates)

B. Solutions

1. New irrigation systems such as trickle systems deliver water to roots so there's less evaporation (these methods also consume much less water); laser-leveling of field prevents wasted water in low-lying soggy areas

2. Restoration of salt-damaged land- VERY expensive- involves pouring excess amounts of water on the land to dissolve the salts and letting it run off
IV. Desertification: The expansion of desert at the expense of cropland or rangeland.
A. Problems [REQUIRED READING]

1. 35 % of earth's surface is arid or semiarid desert

2. Deserts are increasing alarmingly due to both natural processes and human activities
3. Worldwide, 2 billion acres have become deserts in the past 50 years; current rate of desertification is 15 million acres per year
4. Worst problem in sub-Saharan Africa
5. Causes of desertification

a. Overgrazing of rangeland (too many livestock on a given area consume plants faster than they can recover = exposed soil = soil erosion and degradation = plant life cannot get re-established)

b. Cultivating crops on marginal arid or semiarid land (droughts cause crop loss) = exposed soil etc.
c. Improper irrigation -> salinization becomes so bad that plants don't grow in the soil = exposed soil etc.
d. Deforestation (removal of forests) without adequate replanting = exposed soil etc.

B. Solutions

1. Replant area with drought-tolerant plants (grasses with fibrous root systems) so the soil is covered

2. Retire the land from grazing and crop cultivation for a minimum of 10-20 years (this is currently being done with degraded farmlands in the western U.S.)

a. Not feasible in Africa where large numbers of people and their livestock are "supported" by this land

b. Catch-22 situation for Sahelians (in sub-Sahara)- if they allow the land to recover, they will starve; if they continue to graze and farm the already degraded land, they will starve
V. Excessive use of commercial fertilizer: Fertilizers must be used because growing and harvesting plants depletes the soil of essential minerals (fertilizer mainly contains: N - nitrogen; P - phosphorous; K - potassium) that are taken up into the plant. Some crops, such as tobacco, use up more of the minerals than others.
A. Problems



1. Chemical fertilizers eventually decrease organic matter in soil (from continuous cropping)= less water-holding capacity

2. Fertilizer in surface and ground water entering lakes and streams allows overgrowth of algae, whose overgrowth kill off other plants and animals in the waterway (example- excessive runoff into tributaries leading to Chesapeake Bay (Nitrogen levels in Bay- image at right)-> increased population of algae -> loss of bay grasses -> decline in rockfish
3. Extreme possibilities- nitrate poisoning of groundwater or of leafy vegetables grown with excessive nitrate

B. Solutions

1. Use organic (slow-release) fertilizers (organic fertilizers also improve soil texture) - commercial fertilizers are now more expensive since they are made from oil. A main tenet of organic gardening. Composting- turning garden and yard waste into fertilizer.

2. Crop rotation with a leguminous crop (a nitrogen fixer-supplies nitrogen to the soil)
3. Water treatment (tertiary treatment) to remove nitrate from runoff (okay for urban runoff from lawns, but too expensive for farmer) e.g Florida's sugarcane farmers
4. Great care by all of us
5. One example from our area
VI. Widespread use of pesticides- chemicals used to control insects (pictures of examples), fungi, bacteria, nematodes which injure crop plants. Overall, pests reduce the productivity by about 15-20%. At some times or in some places, pests and diseases will become much more of a problem and can effectively wipe out most of a crop. Pesticides can reduce this loss and so are valuable for producing crops.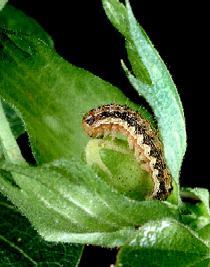 o keep the plant upright.
A. Problems:

1. Consumers demand unblemished fruit and vegtables - pesticide use is widespread as a preventative measure to assure unblemished produce.

2.Genetic resistance to pesticides is developing in many insects -thus we can lose more to pests now than when we didn't use pesticides or try to use more toxic pesticides.
3. Many agricultural chemicals in use today have never been tested for their health effects; we don't know is they cause cancer or birth defects. Some foods have been found to contain residues of pesticides (see List of 12 foods that have the highest pesticide residues) Possible health problems caused by pesticides
4. pesticides are used excessively (apples may be sprayed as many as 20 times during a growing season) as a preventative measure rather than being applied in response to the presence of a pest.
5. Pollution of soil and water (example- widespread use of DDT interfered with eggshell production in birds at top of the food chain) - pesticides don't stay put
6. Broad spectrum insecticides kill beneficial insects as well as harmful ones

B. Solutions

1. Trend today is for replacement of chemicals with biological pesticides- living organisms that work as a pesticide as long as the organism is alive, e.g. biological control using parasitoids insects,weed feeders,predators,pathogens, and antagonists [REQUIRED READINGS - all five sites from Cornell University]. A main tenet of organic gardening

2. IPM (Integrated Pest Management), which makes use of a combination of natural, biological controls (preferred) and chemical controls (only when needed and only the amounts necessary) to attack pest problems when they occur
VII. Other examples
A. Forest fire

B. Deforestation, especially in the tropics from salinization, desertification, fertilizer problems, and pesticides. Solution to these problems must be based on the concepts of sustainable agriculture - the idea that practices should be based upon renewable resources and long-term productivity.
Other Sites of Interest:
Web of Life
World Wildlife Fund
World Resources Institute: Index to topics
Agriculture Genome Information Center
AgriGator: An agricultural based search engine FAO: Food and Agriculture Organization of the United Nations
Union of International Associations: Links to all aspects of human effort
CIESIN: Information for a changing world
CGIAR: Consultative Group on International Agricultural Research
Review of soil erosion
Pesticide residues in food
Review of salinization and inadequate soil drainage
Review of drought
"Desertification of arid lands" by H.E. Dregne, a classical paper
Soil salinization problem- in Canada
A history of the Chesapeake Bay
Pesticides Consumer information
Report on Pesticide concerns- Consumer Reports web site
Pesticides in foods
Technical report on pesticides in food
National IPM Network
National Biological Control Institute
Some technical definitions relating to biodiversity
Growing Green: Executive Summary
IPM applications

Last revised: Dec 7, 2000 - Straney