Directions to H. J. Patterson Hall:
If you take Metro, the College Park stop is on the Green line. There is a shuttle bus (104) to the HH Parking lot/student union stop (it is free, and available to visitors, if you are going to this stop). The walk takes about 20 minutes.
By car from I-95 : Take I-95, I-270, or the other road of your choice, to Washington, D.C.'s Capital Beltway (I-495). If you are coming from the north, this involves taking I-95 South. Then, take Exit 27 (from I-95) and follow signs to U.S. 1 South (Exit 25 from the beltway). Coming south on I-95, take the right fork at the interchange with I-495, but then stay left. The signs to U.S. 1 South will put you very briefly onto I-495 before you exit onto U.S. 1. The map below is useful.
From the beltway (once you are on U.S. 1 south): Proceed approximately two miles south on U.S. Route 1. Turn right onto campus at the main gate (Campus Drive) Proceed straight through the rotary with an M.
Parking: H. J. Patterson Hall is across Campus Drive from the Stamp Student Union. There is paid parking nearby, directly across a side street (Union Lane) from the Union. To get to this from the directions above (coming from U.S. 1), turn right on Union Lane, just after the Student Union, and then left into parking.
After 4 pm most days, there is also free parking in Lot 1 (continue west of the Student Union along campus drive, past Cole Field House) and in the Regents Dr. Parking Garage (PG2 meters are in effect, but many spots are free after hours). At night (after 8) there is free parking in lot HH (right in front of HJ Patterson). There are other options; please read the signs to be sure you can park where you choose to park. HJ Patterson Hall on Google Local and Addtional information is available.
---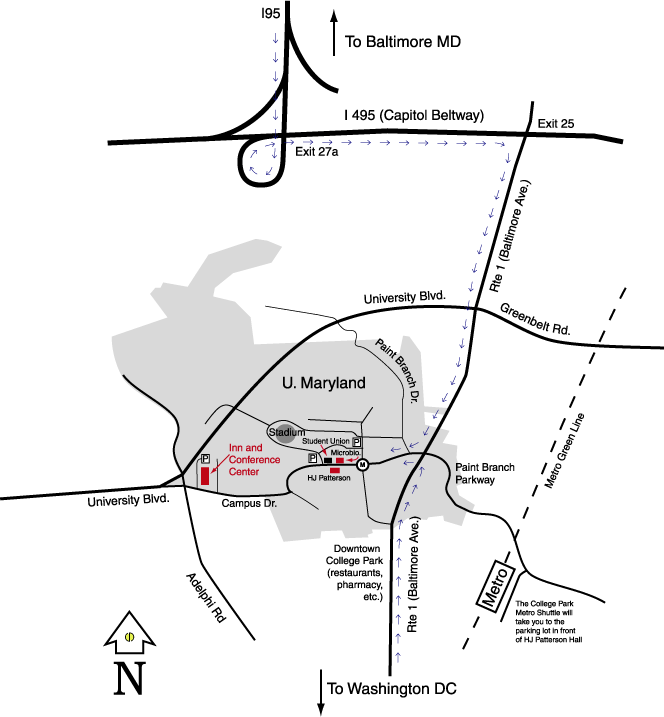 ---
---