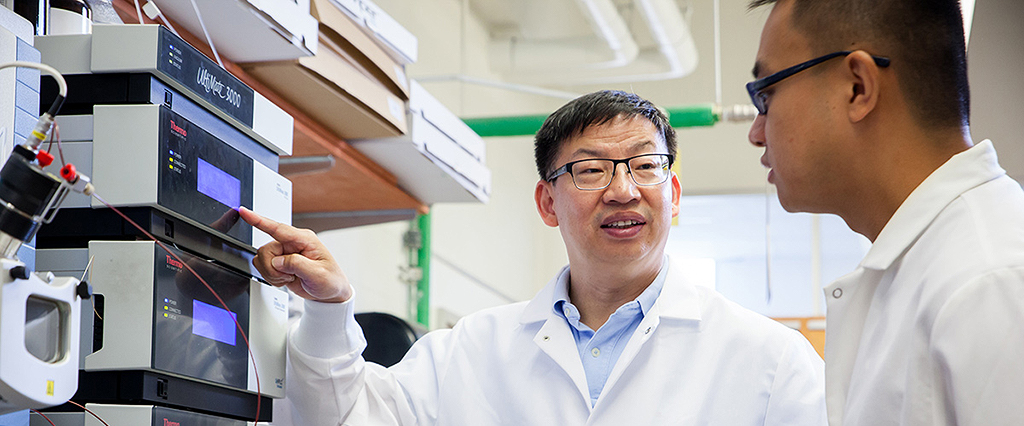 THE UNIVERSITY OF MARYLAND
CHEMISTRY & BIOCHEMISTRY NEWS
May 2020
Message from the Chair

Greetings from the Department of Chemistry & Biochemistry! Although we are not yet able to return to campus, members of our community have responded to this pandemic crisis and come together in remarkable ways. At the "switch" of spring break, we transitioned all of our learning and research online, with the singular exception of urgent COVID-19 research. I am so proud of our students, faculty and staff for their resilience and continued accomplishments, and for the amazing work our alumni are doing. I hope we all will return to campus very soon! In the meantime, please read on for news from our community.

~Janice
Faculty
Christopher Jarzynski Sees a Big Future for Small Machines
So far in 2020, he was elected to the National Academy of Sciences and was awarded Simons and Guggenheim Fellowships.
READ MORE »
Building Fundamental Knowledge to Arm Medical Science
Professor David Fushman studies proteins involved in regulating important cellular processes that are often hijacked by viruses, bacteria and even cancer.
READ MORE »
Making a Difference, One Face Shield Part at a Time
Associate Professor Paul Paukstelis helps manufacture COVID-19 protection for medical workers in his home.
READ MORE »
students and Alumni
Pavan Ravindra Solves Equations—and Rubik's Cubes
The junior biochemistry and computer science dual-degree student brings to the lab the same mental focus and hands-on problem-solving skills he uses to solve the Rubik's puzzle.
READ MORE »
Ph.D. Student Stephanie Gnewuch Studies the Beauty of Chemistry
Gnewuch conducts many of her crystallography experiments at the National Institute of Standards and Technology's Center for Neutron Research.
READ MORE »
Fighting COVID-19 in the ER: 2001 Biochemistry Alumnus Larry Edelman's Story
Baltimore emergency physician shares the fears and challenges of working on the front lines.
READ MORE »
Chemistry Alumnus Rick Capozza has a Good Eye
Following a successful career in the vision industry, Capozza (Ph.D. '69) gives back to today's students.
READ MORE »
Awards
Faculty and Staff Members, Alumni, and Students Receive Awards
We proudly recognize members of our community who recently garnered major honors, awards and promotions.
READ MORE »
In Memoriam
| | |
| --- | --- |
| | It is with much sadness that we announce the passing of Professor Emeritus David Freeman (1931-2019), Professor Emeritus James E. Huheey (1935-2020), and Former Professor William C. Purdey (1930-2019). |
Events
Tobin J. Marks Endowed Lectureship in Chemical Discover

y
Join us for a lecture by Binghamton University's Stanley Whittingham, who was awarded the 2019 Nobel Prize in chemistry for the development of lithium-ion batteries.
Homecoming & Spooky Chemistry
Join us for a day of fun! More details forthcoming.
Help us push the frontiers of chemistry!
Consider making a gift to support redevelopment of the chemistry building. Wing one is scheduled to be replaced soon by a state-of-the-art building for research and training in the molecular sciences.
Make a Gift » Learn more »
WE'D LOVE TO HEAR FROM YOU!
If you recently received an award or landed a new job, please send a brief description to chem-news@umd.edu so that we can share the great things you're doing with our community.
We are grateful to alumni and friends whose generosity supports current and future students. To learn more about how you can make a difference, please visit
go.umd.edu/chemgiving
.