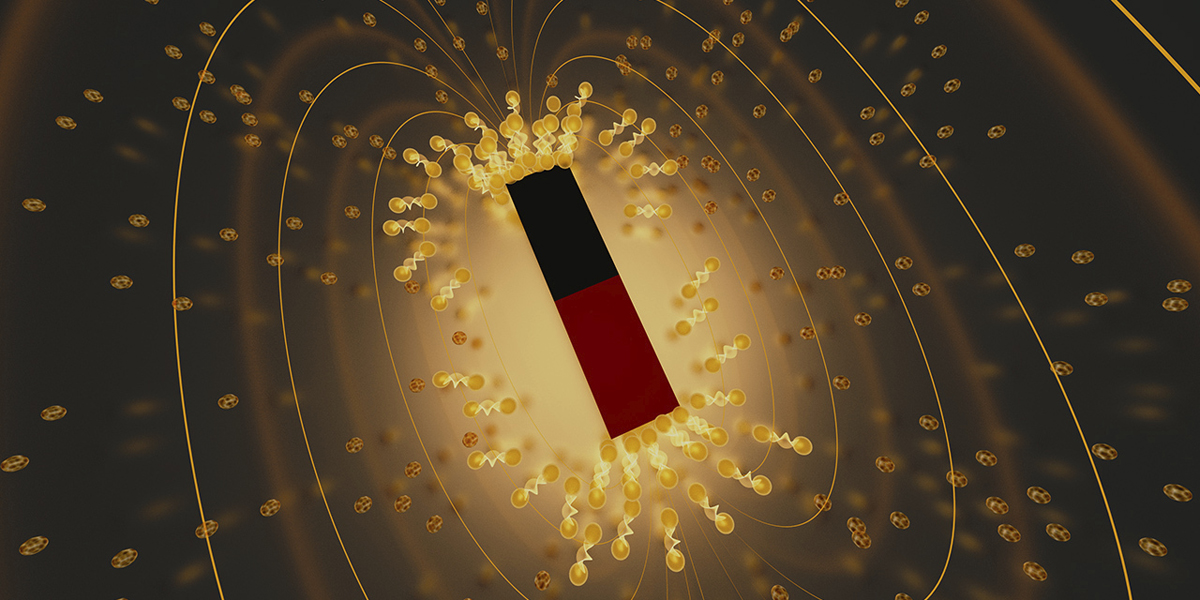 THE UNIVERSITY OF MARYLAND
Department of Physics News
January 2020
Message from the Chair

Welcome to the inaugural issue of our new biannual newsletter, where we will provide updates on the fabulous efforts of our students, postdocs, faculty, staff, and alumni.

Our department continues to rank in the Top 5 for the number of bachelor's degrees and doctorates awarded in physics in the U.S. Our faculty members bring in over $30 million in research funding and publish hundreds of articles each year. We have built significant partnerships with our neighbors, including NIST, NASA, ARL, and NIH. Our faculty members, researchers, and students are deeply involved in all areas of exciting physics, from quantum computing to gravitational waves and more.

Please continue reading for news and stories about our alumni, faculty, research, and students!

~Steve
Faculty and Staff
Johnpierre Paglione Receives $1.55M from the Moore Foundation
News of the grant closed out a year of exciting research discoveries and a renewed emphasis on quantum materials at UMD. READ MORE »
A Physics Career Along the Path Less Traveled
Professor Michelle Girvan applies her physics training to tackle questions ranging from social relationships to cancer genetics. READ MORE »
Longtime Staff Member Lorraine DeSalvo Retires
To honor DeSalvo's 41 years in the department, colleagues established the Lorraine DeSalvo Chair's Endowed Award for Outstanding Service to provide annual recognition to physics employees who demonstrate exemplary commitment to their work. READ MORE »
studentS and Alumni
John Martyn Takes Physics From the Lab to the Skate Park
The December 2019 B.S. graduate mastered the ultimate balancing act between extracurricular activities like skateboarding and research on quantum information, condensed matter and gravitational waves. READ MORE »
Ph.D. Student Liz Friedman Makes the Most of Her Maryland Experience
Friedman has traveled twice to Antarctica for her research, and she has been an active member of the graduate student community in physics and across campus. READ MORE »
Recent Alumnus Zachary Eldredge Transitions from Quantum Mechanics to Solar Energy
Eldredge was awarded an ORISE Fellowship to work in the Department of Energy's Solar Technologies Office after graduation. READ MORE »
Outreach
Summer Camps Introduce High School Girls to Physics
Since its inception in 1988, over 1,500 students have participated in UMD's Summer Girls physics program for rising 9th through 12th graders. READ MORE »
Awards
Faculty, Staff, Student and Alumni Awards & Notes
We proudly recognize members of our community who recently garnered major honors, awards and promotions. READ MORE »
In Memoriam
| | |
| --- | --- |
| | It is with much sadness that the department announces the passing of several members of our community. READ MORE » |
Events
Jeffrey I. Mechanick, M.D. Quantum Biology Lecture
Presented by Ronald Walsworth, Minta Martin Professor of Electrical and Computer Engineering, Professor in the Department of Physics, and Director of the Quantum Technology Center at UMD. MORE »
Joseph Sucher Memorial Service
Join us for a memorial service to honor the life of Professor Emeritus Joseph Sucher, who joined the faculty in 1957 and died recently at the age of 89.
MORE »
Professor S. James Gates Jr. Book Signing and Discussion
Join us for a discussion of Gates' new book Proving Einstein Right: The Daring Expeditions that Changed How We Look at the Universe (written with Cathie Pelletier) about intrepid astronomers who proved Einstein's theory of gravity. MORE »
W. J. Carr Lecture Series on Superconductivity and Advanced Materials
Presented by Dale J. Van Harlingen, Professor of Physics at the Materials Research Laboratory and the NSF Science and Technology Center for Superconductivity at the University of Illinois. MORE »
Maryland Day
Join the department for a day of learning, fun and discovery on Science & Tech Way. You'll find a wide variety of family-friendly events and activities where you can explore our world of fearless ideas. MORE »
Irving and Renee Milchberg Endowed Lecture
Presented by James Glanz, a reporter on the investigations desk of The New York Times. MORE »
To see a complete list of upcoming events, visit umdphysics.umd.edu/events.
WE'D LOVE TO HEAR FROM YOU!
If you recently received an award or landed a new job, please send a brief description to physics-news@umd.edu so that we can share the great things you're doing with our community.
We are grateful to alumni and friends whose generosity supports current and future students. To learn more about how you can make a difference, please visit
go.umd.edu/givetophysics
.