Monitoring Oyster Restoration

The Eastern oyster, Crassostrea virginica, is a keystone species in the Chesapeake Bay due to its abundance, the fact that oysters provide critical habitat for many benthic animals in the Bay, and that oysters also aid in regulating water quality through filtration.  Once abundant, this species has experienced a dramatic decline in population over the past century due to many factors including overfishing, pollution, and disease.  The figure (from the Maryland Department of Natural Resources Shellfish Program's 2011 Report) below shows the total Chesapeake Bay oyster harvests since 1880 and illustrates the dramatic decline in the oyster population in the Chesapeake Bay over the past century.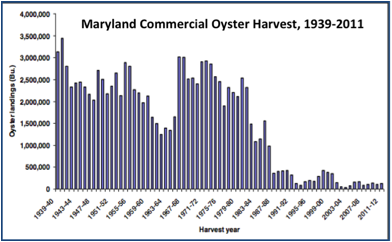 Figure 1.  Maryland Commercial Oyster Harvest, 1939-2011.  Figure from Maryland Department of Natural Resource's 2011 FMP Report.

Since 1990, the Oyster Recovery Partnership (ORP) has worked to restore oyster bars in the Maryland portion of the Chesapeake Bay.  A main function of the Paynter Lab is to monitor the success of restored oyster populations in the northern Chesapeake Bay.  We specifically focus on monitoring spat-on-shell plantings that are coordinated by the ORP.  The ORP obtains spat-on-shell from the University of Maryland Center for Environmental Science's Horn Point Laboratory Oyster Hatchery, located in Cambridge, Maryland on the Choptank River. 

The Paynter Lab is involved in three types of monitoring related to spat-on-shell plantings:
Ground truthing of potential restoration sites:  Site selection is critical to the survival of spat. 
Short term post-planting monitoring (PPM): Newly planted spat are sampled 4 – 8 weeks post-planting to obtain a short-term estimate of spat survival.
Patent tong surveys of adult oyster populations: Once restored populations reach three years of age they are monitored for growth and disease via a systematic patent tong survey.  The survey is conducted in collaboration with watermen that work in the Chesapeake Bay.

Through these three types of monitoring our lab provides accurate and timely data on restored oyster populations in Maryland.  These data form the basis of a decades-long effort to understand the dynamics of restored oyster populations in the Chesapeake Bay. 
Each year our lab provides a monitoring summary to the ORP; these reports will soon be available through this website.

We would be happy to share our lab's data with interested parties.  Several recent monitoring reports are available online (2011 Report to the ORP, 2010 Report to the ORP). Please contact us at: paynteroysterlab@gmail.com if you have specific data inquiries.