π DAY CELEBRATION
Tuesday, March 14, 2023
William E. Kirwan Hall (Mathematics Bldg.)
12 p.m.
Pizza π for talk attendees
3rd Floor Graduate Student Lounge
12:30 p.m.
"From UMD to Wall Street and Beyond"
Bill Fahrbach '02
Chief Financial Officer at Facet Wealth
Herbert Hauptman Hall (Room 3206)
1:30 p.m.
Dessert π and
Recitation of π by Mathematics Professor Denny Gulick
James A. Yorke Rotunda
Questions? Contact Jessica Wilke at wilke@umd.edu or 301-405-4324.
---
About the Speaker: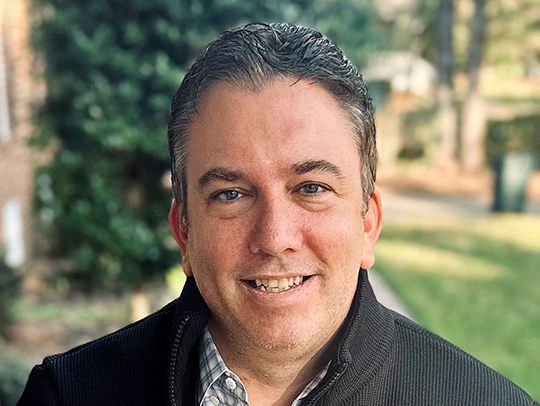 Bill Fahrbach (B.S. '02, mathematics; B.A. '02, economics) is chief financial officer at Facet Wealth, where he restructured and rebuilt the finance team, launched a data and analytics program, and raised more than $150 million in just 10 months, all setting the stage for a future IPO.
An internship at Morgan Stanley just before Fahrbach's junior year at the University of Maryland convinced him he'd found his niche in investment banking. After graduating in 2002 with bachelor's degrees in mathematics and economics, Fahrbach began his career with Merrill Lynch, Crusader Securities, and Standard & Poor's, where he researched and advised on mergers and acquisitions and capital raises for growth technology businesses.
Then he had a tough decision to make: should he stay on a path toward a career in business or become a professional musician. His bandmates had already moved out to LA and become musicians; he was the only holdout. Though music would always be a part of his life, Fahrbach decided business was a better career choice, ultimately earning an MBA from the University of Chicago Booth School of Business in 2009.
Since then, Fahrbach has been responsible for finance, legal and operations at larger companies and startups and has helped take companies public. With a combination of investment banking and technology operations experience, he has led organizations through exponential growth, raised debt and equity, executed and integrated several acquisitions, and completed multiple successful exits for investors.
In 2013, Fahrbach landed his first CFO position at Mobile Commons, where he was hired to position the business for sale in 18 to 24 months. He had it sold in just seven months. He moved on to WorkWave and more than quadrupled the size of the business in four years, acquired five businesses, then sold the company and achieved a great outcome for its investors. After that, he was CFO at ComplySci and CultureIQ before joining Facet Wealth.