Science on Tap
A monthly lecture series at UMD that explores the latest discoveries in science and technology in a relaxed atmosphere with food and drink
"Getting Down and Dirty with Bacteria: Using Computers to Understand Microbial Communities"

---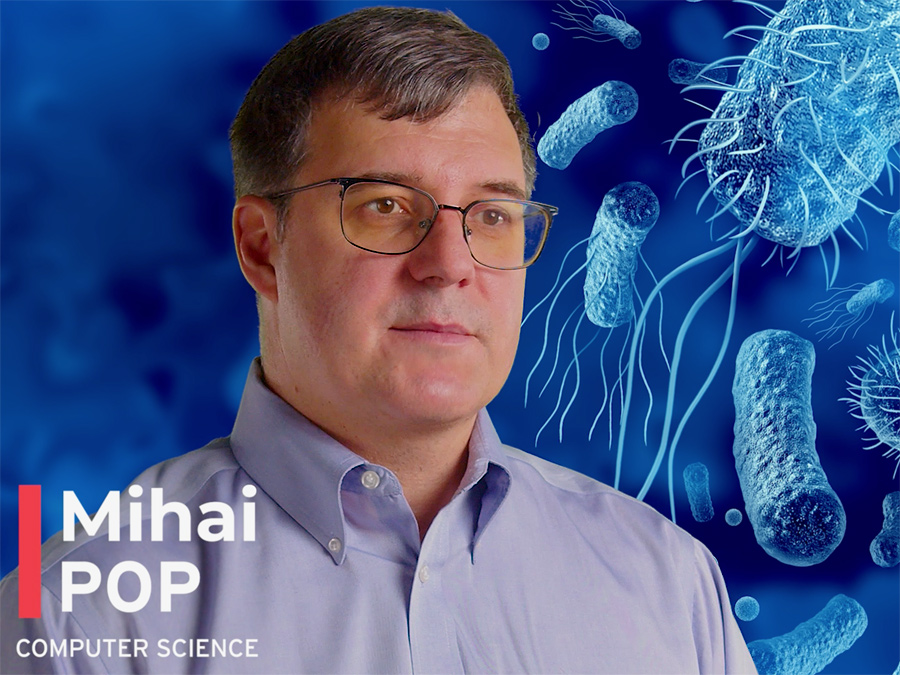 Mihai Pop
Professor of Computer Science, University of Maryland
Director, University of Maryland Institute for
Advanced Computer Studies
Monday, March 13, 2023
Doors open at 6 p.m.
Lecture begins at 6:30 p.m.
Ledo Pizza
4509 Knox Rd.
College Park, MD 20740
Paid parking is available in the attached city garage, which guests can enter on Yale Avenue. Guests may enter the event venue via the Ledo entrance on the corner of Knox Road and Yale Avenue.
Food service and beverages will be available for purchase at the event or by pre-order on order.ledopizza.com/menu/ledo-pizza-college-park. 
Questions? Contact Abby Robinson
at abbyr@umd.edu or 301-405-5845.
Subscribe to Receive Science on Tap Emails
---
About the Talk
What do Skittles and computers have to do with microbes? What role does Charles Dickens play in our understanding of DNA? And why should you care about the DNA of bacteria and microbes that inhabit virtually every part of our planet? I'm happy to answer these questions and more, as I highlight the role that complex microbial communities—known as the microbiome—play in human, animal and environmental health. I will discuss how new genomic sequencing tools allow scientists a deeper insight into how microbes interact with each other and with our ecosystem—and what that means for drug therapeutics, sustainable agricultural, and wetlands restoration. In closing, I will introduce the new Center of Excellence in Microbiome Sciences at the University of Maryland, a cross-campus effort that takes a "One Health" approach to research and scholarship involving microbes and bacteria—advocating for an integrated, unifying method to balance and optimize the health of people, animals, and the environment.
About the Speaker
Mihai Pop is a professor of computer science and director of the University of Maryland Institute for Advanced Computer Studies. As a genomics sequencing expert in the Center for Bioinformatics and Computational Biology, he is active in the development of computational approaches for analyzing microbial communities, with a specific focus on characterizing the strain-level diversity within samples. Other interests include tools for searching biological databases, antibiotic resistance, and software testing. His lab has developed several widely used open-source software tools for the analysis of genomic and metagenomic data. Pop is committed to education and is active in teaching and mentoring at all academic professional levels, with a particular interest in the development of open educational resources for introductory computer science and bioinformatics. He is also a strong advocate for inclusion and diversity within the scientific community and an active participant in outreach efforts to achieve those goals. He completed his undergraduate studies in 1994 at the Politehnica University in Bucharest, Romania, received his Ph.D. in computer science from Johns Hopkins University in 2000 and has been at the University of Maryland since 2005.