› CHX Overview
› AtCHX Genes/Proteins
› AtCHX Resources
› OsCHX Genes/Proteins
› Publications
Cation/H+ Exchanger (CHX) Genes in Oryza sativa

Figures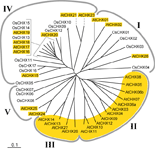 Fig. 1. At & Os CHX Phylogenetic Tree (T-coffee)


Tab. 1. OsCHX Genomic Information | Tab. 2. OsCHX cDNA & Protein Information
Note: CHX names were given to genes based on alignments and phylogenetic studies involving the AtCHX family (Reference included below the table). This was completed before the loci naming system was released. Thus, the OsCHX loci are currently unpublished.


Name
Locus
BAC/PAC Acc#
BAC/PAC: ATG to STOP
Exon #
OsCHX01
Os02g58660
AP005290
56,676 - 59,266
2
OsCHX02
Os08g43690
AP005251
8,972 - 11,696
4
OsCHX03
Os09g37300
AP006548
[–] 116,417 - 113,865
2
OsCHX04
Os12g44300
AL732378
73,678 - 76,155
1
OsCHX05
Os05g39600
AC135924
38,925 - 41,773
3
OsCHX06
Os12g01820
BX000492
[–] 56,984 - 54,565
2
OsCHX07
Os11g01820
BX000497
141,611-144,016
1
OsCHX08
Os08g02450
AP004562
137,679 - 140,243
2
OsCHX09
Os12g02840
BX000506
12,549 - 15,153
2
OsCHX10
Os11g03070
AC136970
85,198-87,751
2
OsCHX11
Os05g31730
AC136222
[–] 128,439 - 124,482
3
OsCHX12
Os05g02240
AC093921
25,581 - 29,615
3
OsCHX13
Os03g61290
AC096687
[–] 27,131 - 22,453
2
OsCHX14
Os05g19500
AC130731
8,097-10,588
2
OsCHX15
Os12g42200
BX000457
96,921 - 102,797
2
OsCHX16
Os05g40650
AC118289
[–] 87,192 - 84,471
2
OsCHX17
Os01g60140
AP003255
40,971 - 43,842
4

Reference:
Sze, H., et al. (2004). Expression patterns of a novel AtCHX gene family highlight potential roles in osmotic adjustment and K+ homeostasis in pollen development. Plant Physiol 136, 2532-2547. [PDF]