GEMS (Genetics with Eukaryotic Model Systems) is a monthly multi-lab meeting physically based at the University of Maryland, College Park and devoted to the use of genetic approaches in Eukaryotic Model Systems such as Drosophila, C. elegans or Arabidopsis to study problems in development, signal transduction and gene expression. The group includes researchers affiliated with the Departments of Biology, Cell Biology and Molecular Genetics and Entomology in the College of Life Sciences; the Department of Animal and Avian Sciences in the College of Agriculture and Natural Resources; and the Centers for Biosystems Research (CBR) and Advanced Research in Biotechnology (CARB) in the University of Maryland Biotechnology Institute (UMBI).
Molecular Genetics at Maryland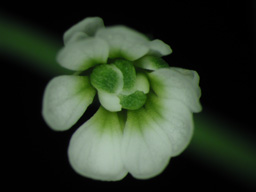 The University of Maryland provides a rich environment for research in molecular genetics. In addition to GEMS, the Arabidopsis thaliana Research Initiative at University of Maryland (ATRIUM) provides an additional monthly meeting for those who work on Arabidopsis. ATRIUM also hosts an Annual Minisymposium in April. In addition, GEMS researchers maintain close ties and collaborations with nearby institutions, such as The Institute for Genomic Research (TIGR), Johns Hopkins and the Carnegie Institution of Washington Dept. of Embryology and Center for Advanced Research in Biotechnology. The NIH is only minutes away and several GEMS labs participate in NIH special interest groups on topics such as Drosophila and RNA. On campus, molecular genetics research is supported not only by the departments and programs mentioned above but also by an interdepartmental graduate program in Cell and Molecular Biology (MOCB ), a Center for Biological Structure and Organization and a Center for Bioinformatics and Computational Biology.

College Park is an inner suburb in the Washington, DC metropolitan area. The metro area is a region of tremendous cultural and geographic diversity and has a rich history. College Park is convenient to a vast array of living environments, natural areas, and cultural resources (see the Washington Post or City Paper for listings), and is accessible to the DC metro system.
GEMS laboratories meet each month (except for August and December) on a Friday afternoon for research presenatations by graduate students, postdocs and faculty. These meetings are intended to allow members of the GEMS labs to stay abreast of each other's research and benefit from mutual feedback. The schedule of the next several meetings and the rotation of speakers is available online. Graduate students who present in GEMS can obtain course credit as CBMG699T. Interested students should contact Steve Mount (smount@umd.edu).
---
Institutions, departments and programs
College of Life Sciences: Cell Biology & Molecular Genetics Biology Entomology BEES MOCB College of Agriculture and Natural Resources ANSC
CBCB UMBI: CBR CARB Howard University
---

---
Links to other 'GEMS' at Maryland.
This is page is about Genetics with Eukaryotic Model Systems. We have nothing to do with either Graduate Enrollment Management Services, valuable stones, jewelry, Gemstone (an honors program that sponsors courses with the GEMS designation) or the Geology department.
---
Page by Steve Mount. Please report any dead links or other problems!